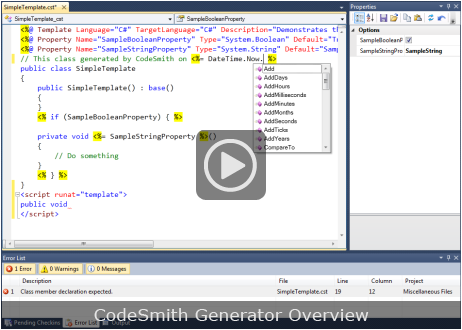 CodeSmith Generator
Your code. Your way. Faster. CodeSmith Generator is a tool to help you get your job done faster. Technically speaking it is a template driven Source Code Generator that automates the creation of common application source code for any text based language.
Download Now
Learn More
CodeSmith Insight
All software has bugs. Let Insight find them before your users do. CodeSmith Insight is an
Error Reporting and
User Feedback Service.
Go from signing up to catching every error in your application in 15 minutes or less...for free.
Signup Now
Learn More
CodeSmith Frameworks
CodeSmith Generator includes entire sets of templates for generating proven architectures.
PLINQO is an enhanced alternative for some of the most popular ORM frameworks, including LINQ to SQL, Entity Framework, and NHibernate.
PLINQO
All Frameworks
Join Our Community!
Get Support, Learn, Collaborate and Share Knowledge with your peers and colleagues in the CodeSmith Community!
Announcements & Blogs
Blog RSS Feed
We are happy to announce Generator support for DB2 . With the help of David Logan we were able to add a new DB2 Schema Provider that ships with the latest version of Generator. You can now generate using the Schema Explorer API and existing templates against DB2. This is a huge win for all DB2 developers! Please let us know what you think! Please let us know if you have any feedback or questions about CodeSmith Generator. Download Now...(read more)
Today I'm happy to announce an upcoming feature for one of the most customer requested template editor features: Bracket Highlighting! Bracket Highlighting Bracket Highlighting creates visible highlights around sets of delimiters (parentheses, square brackets, and curly braces) when the caret is next to them. In the screenshot above, the caret is next to a } character which the C# language implementation recognizes as a bracket that should receive highlighting. Thus its background is highlighted...(read more)
We are delighted to announce that we've added support for ASP.NET WebAPI and Kendo UI to the PLINQO for Entity Framework templates ! In the article below we will talk about the templates and show off the new features. Please note that while we are still working on these features, we would love for you to download the templates and give us your feedback. Also note that you will need to download and install MVC4 and NuGet before continuing. Getting Started Please note that the templates require...(read more)
If you haven't heard about NuGet yet, you may be living under a rock! NuGet, is a package manager that gives you quick access to add or update external dependencies. We love making our products that save you as much time as possible, which is why we thought NuGet would be a perfect fit. Please follow the guide below on how to use our CSLA templates via NuGet! We have also updated all of our CSLA documentation to reflect using NuGet and much more. Getting Started Install the CodeSmith.Generator...(read more)
We recently released CodeSmith Generator 6.5.0 , which includes many new features and improvements. One of the areas that we focused on was our existing Schema Providers. Based on customer feedback, we added two new Schema Providers (VistaDB 4.x and SQL Compact 4) to Generator 6.5. We've kept the previous schema providers for backwards compatibility, so if you are using SQL Compacts 3.5 or VistaDB 3.x we haven't forgot about you! On top of adding two new Schema Providers, we spent time updating...(read more)
Product Updates
Blog RSS Feed
New Features Improved XmlProperty Intellisense. Added the ability for the Server edition to consume the Generator API. Bug Fixes Fixed a bug where a NullReferenceException could be thrown when the XmlProperty Schema attribute valu...(read more)
New Features Added beta support for Visual Studio 2012 themes. Bug Fixes Fixed a bug where the Template Editor font size would be displayed incorrectly inside of Visual Studio 2012. Fixed a bug where the Visual Studio 2012 snippet...(read more)
New Features Increased support for Visual Studio 2012. Added DB2 zOS Schema Provider (contrib David Logan and Blake Niemyjski). Added the ability to change a templates template code's background color. Added the ability the abilit...(read more)
Bug Fixes Fixed a bug where assemblies were not being resolved correctly when Visual Studio 2012 / .NET 4.5 was installed. Download Please contact support  for access to CodeSmith Generator 6.0.5....(read more)
Improvements Updated all client builds. Please update your clients to the latest version. Added support for ReplyTo emails. Added Version custom field type. Added support for searching by major or minor version custom field type v...(read more)